Donate to the Charitable Foundation, the Scholarship Trust, or CanTree!
SAR has a significant history of supporting charities related to shelter and a thriving community. Your donation to the Foundation continues this important work.
Thousands of candles can be lighted from a single candle, and the life of the candle will not be shortened. Happiness never decreases by being shared.

The Sacramento Association of REALTORS® Charitable Foundation gives focus and added strength to the Association's tradition of giving back to the community. Sacramento REALTORS® are an extremely generous group, both individually and collectively, and of both their time and money. The many and varied charitable activities of SAR now fall under the Foundation, assuring tax deductibility for contributions.
The Sacramento Association of REALTORS® Charitable Foundation Inc. is a 501(c)(3) charitable organization founded in 2012. Tax ID: 30–0691274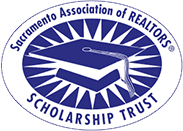 Sacramento students attending American River Junior College, Sacramento City College, and Sacramento State College (now California State University, Sacramento).
Over the years SAR has expanded the Scholarship program to support students in a variety of fields at many different institutions across the United States. Education is one of the most important gifts we can give today's youth and it is a gift that benefits not only the student but the entire community. The students who receive a SAR Scholarship to attend college will one day be your clients, your co-workers, and our community leaders.
Every REALTOR® knows that a healthy community is crucial to their success. All the money they raise for CanTree goes directly to The Salvation Army – none of it goes for administration or any other costs. CanTree is sponsored by SAR, but many organizations and individuals contribute to its success through donations of food, money, or goods and services. SAR Members are encouraged to raise money through their own company efforts and fundraisers.